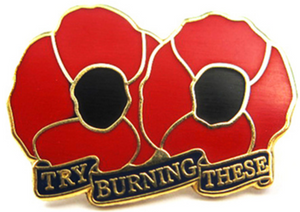 Try Burning These Poppy Badge
A Black Lives Matter Rioter was filmed climbing on top of the Cenotaph war memorial in London and trying to BURN our Union Flag!
That is the flag that MILLIONS of OUR men fought, bled and died to defend.
These yobs are on our streets SHAMELESSLY insulting our war heroes, desecrating monuments and now SETTING FIRE TO OUR FLAG!
The anti-British thugs might be offended by our memorials, our flag and the Poppy, but we are PROUD!
Our message to the Liberal hate mob - You tried to burn our flag...TRY BURNING THESE!
---
We Also Recommend