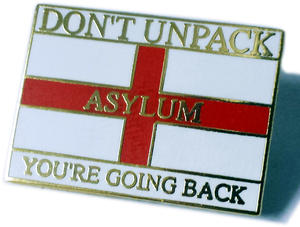 "Don't Unpack You're Going Back" Pin Badge
English shores are being INVADED on a daily basis by hordes of opportunists claiming to be 'Asylum Seekers'.
Most of these are FIGHTING FIT MEN who have travelled through countless countries to get to 'SOFT TOUCH BRITAIN'.
Well we have a message for them: "DON'T UNPACK, YOU'RE GOING BACK!" 
---
We Also Recommend